Heavy Equipment refers to heavy-duty machines, vehicles, and equipment. They include five major equipment systems, namely: implement, traction, structure, power train and control.
Road construction entails the usage of many heavy-duty pieces of machinery. Read on to find out more.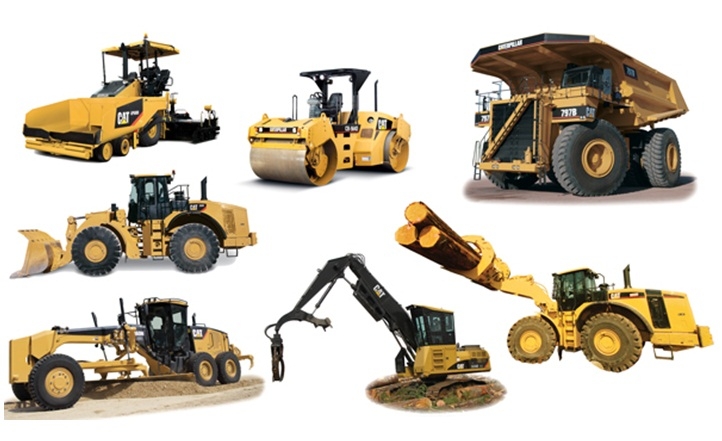 Road Construction Equipment
Construction of roads, highways, and repair of roads require the usage of some of the machines listed below. They can be easily classified into equipment that is used as diggers, compactors, and lifters.
1. Excavators
Excavators are necessary for any kind of construction work. They help in digging up the earth. For the construction of highways or large roads, huge excavators are used. If the roads are considerably smaller in size, mini excavators are sufficient.
2. Crawler Excavator
Crawler excavators are used in road construction for digging trenches, moving debris, etc.  They consist of rotor support, crawler chassis, turntables, etc.
3. Scrapers
Scrapers are heavy-duty vehicles which are used in road construction. They are used to scrape a thin layer of the soil. They can also carry this layer to any desired place.
4. Milling Machines
The milling machine is one of the road construction equipment used to remove an existing piece of material to make way for a new one. Pavement milling can help remove either just a layer or the complete depth of the road.
5. Motor Grader
Motor graders are heavy-duty vehicles used to maintain smooth surfaces of roads. They are used to even the levels of the road. They are also used during the construction of roads to even the layer of asphalt. In some places, they are used to move snow and debris.
6. Asphalt Mixing Plants
Asphalt plants are heavy-duty plants that are used to manufacture asphalt concrete. Asphalt concrete is a combination of sand, a number of aggregates and a filler which is finally coated with bitumen or tar.
7. Concrete Batching Plant
A concrete batching plant or batch plant is an equipment that helps combine many ingredients to form concrete. The two categories of concrete batching plants are dry mix plants and wet mix plants.
8. Bitumen Pressure Distributor
The Bitumen pressure distributor is used for spraying asphalt cement on the road evenly. Bitumen is the binding agent that binds the material and road surface.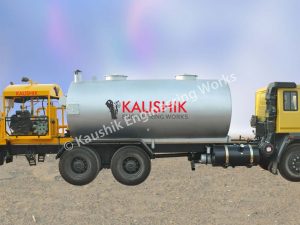 9. Roller Machines
A road roller is used for road construction. They are used to condense soil, gravel, concrete or asphalt. They are also called steamrollers.
10. Wheel Loader
A Wheel loader is a construction equipment that is used for moving materials such as asphalt, rocks, gravel, etc.
11. Bulldozers
Bulldozers are construction equipment that helps in moving the soil and changing it. They are similar to graders in smoothening the surface of the road.
12. Paver
Pavers are the pieces of equipment that help in laying the asphalt mixture on the road. Before it is compacted by a roller, Paver provides small compaction.
13. Forklift
Forklifts are trucks that help move material from one place to another and hence, are indispensable in construction work. They are also used in road construction to carry heavy materials used for building.
14. Truck Crane
Truck cranes are also lifting construction equipment. They help lift or lower heavy material. They also allow movement of material sideways. They are commonly used in the construction, manufacturing and transport industry.
15. Tower Crane
Tower cranes similar to truck cranes are used to lift heavy material like steel, concrete, etc. The exception is that they are used to raise the material to a great height.
16. Articulated Hauler
Not always do road constructions occur in areas that are easily accessible. Sometimes, roads are built over rough terrains. An articulated hauler is a heavy-duty vehicle that helps haul heavy material over rough terrains.
17. Off-Highway Trucks
Haul Trucks or Off-highway trucks are also used to carry heavy material over rough terrain. They are used for construction material and equipment transportation.
18. Skid Steer Loaders
Although small and rigid, these vehicles are attached to labor-saving tools. They can replace excavators and transport vehicles.
19. Steer Backhoe Loader
This machine is used as a multipurpose machine. They are used as excavators and also loaders and lifters.
20. Barrier Transfer Machine
Barrier transfer machine or Zipper machines are heavy-duty vehicles which are used to lift dividers, etc. They are used during heavy traffic or rush hours. This helps reduce accidents due to vehicle collisions because of vehicle crossing over to the opposite lane during road repair.
Purchase Construction Equipment at Great Deals
Road construction equipment is one of our specialties. We provide some of the best deals for our products. Visit our website to know more about the amazing prices and deals. For more information, please contact us at +91-79-22902714 or +91-79-22901989!