Cement / Fly Ash Silo System
| | | | | |
| --- | --- | --- | --- | --- |
| Model | KEW – S25 | KEW – S50 | KEW – S60 | KEW – S100 |
| Capacity | 25 Ton | 50 Ton | 60 Ton | 100 Ton |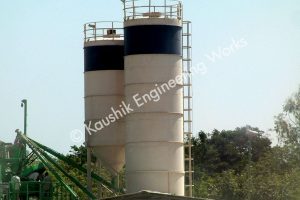 In on-going quest of adding new products to existing KAUSHIK range, Cement Fly Ash Silo system is the latest in our Ancillary Products category. Bulk storage of cement in silos is the preferred method of storing cement for concrete production. Precision engineering, quality processes and procedures coupled with KEW expertise ensure customer satisfaction. Cement Silos are available in a capacity ranging from 25 to 100 tons.
CHIP SPREADER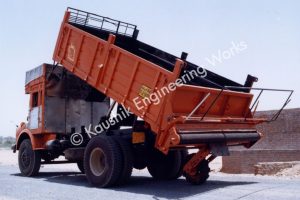 KAUSHIK chips spreader comes as a mechanical attachment for laying of pre-coated chipping surface treatments that provides long-time conservation and maintenance of the roads. The roads once constructed needs constant repair as it is prone to wear and tear due to weather influence and rolling traffics. A chip spreader through chip sealing gives special protective wearing surface to an existing pavement. For maintaining the quality and giving the roads a long-lasting effect, stone chipping is one of the most effective method and this is done by a chip spreader, a superior product in our Ancillary Products line.
Kaushik PJBF Bag Filter (Bag House Type Pulse Jet Filter)
Kaushik Pulse jet Bag filter can achieve all pollution related norms. Following are some features of Kaushik's bag filter.
Modular, central and compact design.
Application to gas volume 500 to 2,00,000 AM3/HR
Tool less Replacement and installation of bags due to snap band fitting.
Fully automatic filter operation.
Raw Gas Temperature up to 250 C0
Safe and maintenance free operation.
Gas coolers are provided for temperature above 250 C0
Applications
Carbon industry, Cement, Boiler applications, Foundry Applications, Metal melting and furnaces, Iron-Steel, Textile, Blast cleaning, Powder cleaning, Pulverising, Plastic processing, Fume extraction, SAW Pipes MFG, Pharma Industry, For air pollution control, and Many Others….
Apart from Ancillary Products, we also offer tailor-made solutions for higher capacities other than the standard models.