| | | | | |
| --- | --- | --- | --- | --- |
| Model | MDM 25 | MDM 45 | MDM 50 | MDM 60 |
| Capacity | 20 - 30 TPH | 40 - 60 TPH | 60 - 90 TPH | 90 - 120 TPH |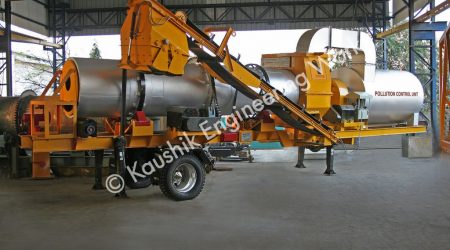 KAUSHIK automatic asphalt drum mix plants, compliant to the latest M.O.R.T.H. (previously known as M.O.S.T.) specifications, are designed and engineered to give trouble-free performance with superior fuel efficiency. Our pursuance to offer our customers the best and constant up-gradation of products today showcases exceptional and unmatched product refinement in our asphalt plants.
Our MDM (Mobile) series offers customers the industry's finest & proven technical solution, latest generation process controls and automation together with total installation and site support, aimed to deliver precisely mixed quality asphalt – productively and profitably. KAUSHIK design team facilitates custom built asphalt plants to meet specific site demands and requirements. Available in capacities ranging from 20 to 120 TPH output in different models.
MDM-25 STANDARD CONFIGURATION:
MDM-45 (WITH POLLUTION CONTROL UNIT) STANDARD CONFIGURATION:
Optional attachments like Hot Mix Storage Silos for mixed material, Wet Dust Collector and/or Bag House Filter Unit for effective pollution control, Bitumen heating and storage tanks provided to suit specific needs.
Frequently Asked Questions About Mobile Drum Mix Plants
What are Mobile Drum Mix Plants?
The asphalt drum mix plant is used for construction projects and can be moved from one place to another. Our mobile drum mix plants are capable of mixing asphalt and other materials for the desired results. They are flexible and offer quick installation with easy setup features.
Are Mobile Drum Mix Plants Easy to Set Up?
Yes, our mobile drum mix plants are designed to offer you a trouble-free performance with customized settings. Our Asphalt mobile drum mix plants can be easily moved from one place to another and are easy to install. You can consult with our experts, and we will help you set up the machine in a hassle-free way.
Are the Plants Available in Different Capabilities?
Yes, you can select the plant from 4 models with various capacities and features. Our models come with a capacity of 20-30 TBH to 90-120 TBH. We will help you choose the one that best suits your needs.
Do You Offer Drum Mix Plants that are Automatic?
We offer drum mix plants that can be operated automatically, semi-automatically, and manually. You can also include optional attachments for better performance. Consult with our experts to learn more about the features and controls of our mobile drum mix plants.