1. BITUMEN DECANTER / BITUMEN DRUM MELTING UNIT
Model
2 X 9
2 X 10
3 X 9
3 X 10
4 X 9
4 X 10
Capacity/Hour
3 Tons
3.5 Tons
5 Tons
6.5 Ton
7 Tons
* Higher capacity plants are available on specific enquiry.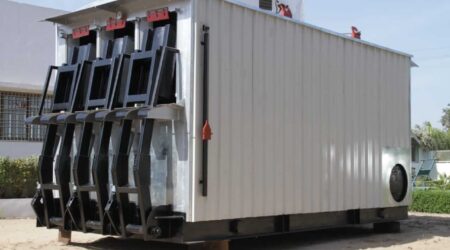 We have been the leading manufacturer of road and civil construction equipment since 1997. We are introducing our new product " Bitumen Decanter / Bitumen Drum Melting Unit " which is used for taking Bitumen out of the drums and heating up Bitumen by using a Thermic Oil Heater. It is more effective than a batch type drum melting system which saves energy sources, manpower and is quite eco-friendly. KAUSHIK Bitumen Decanter (Drum Melting Unit) is designed for reliable and easy operation.
We are manufacturing Bitumen Drum Decanter which is robust and has a rigid heavy structure made from standard steel. There are two parts in the unit, the upper part is called the Heating Chamber while the lower part is a storage tank provided for melt bitumen. Bothe the heating chamber and the storage tank are fully insulated with 75mm Rockwool.
Use of hot oil heating coils to indirectly heat up asphalt which can prevent asphalt quality from aging during heating. Seamless tubes are used for heating unit which are 2.9mm thick and tested at 2000 psi.
There is a drum loading system by means of hydraulic cylinders and power pack to decrease manpower and production cost.