| | | | | |
| --- | --- | --- | --- | --- |
| Working width | Brush | Total width | Required Oil flow (for 160 bar) | Weight |
| 2000 mm | 600 mm | 2270 mm | 30 - 40 L | 410 kg. |
Note : Measures and weights are approx. and non-binding.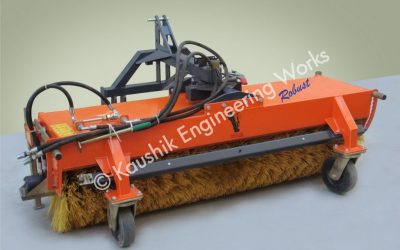 Ideal for construction, industrial or municipal jobs, the KAUSHIK Robust sweeper is easy to attach and simple to use. This fully hydraulic sweeper can be attached to tractors, loaders or forklifts. Especially designed 100% polypropylene convoluted brush rings make sweeping more powerful. With vigorous design KEW Robust sweeper can be used on rough road works job with or without the dust collecting hopper.
BASIC CONFIGURATION
Machine casing stable and rigid construction
Working width 2000 mm
Pressure release valve 160 bar (to protect the hydraulic system)
Run on system prevents sudden stop of the heavy brush
Tough wheels 200 x 50 mm
Easy snap-on, snap-off functionality can be attached / detached within minutes
Broomer uses hydraulic functionality of tractor / loader
Adjustable Brush Height, Replacable Brushes
Broom hydraulically angles 30 degrees in either direction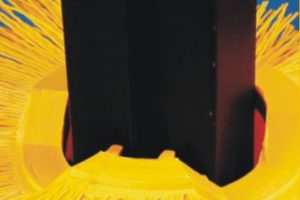 Our convoluted brush rings are made of 100% polypropylene and are designed to be used without distance rings.
Polypropylene is rugged and unusually resistant to many chemical solvents, bases and acids.
A brush roll consisting of our brush rings has the form of dish openings that makes the sweeping more powerful and gives the broom improved pitching ability.
Due to its way of production there is about 40% more brushing material in our brush rings than in regular brush rings. Therefore its durability is improved considerably. Thus our brushes lasts even twice as long compared to the conventional brush rings.
Regarding environmental control – the 100 % polypropylene brush being completely recyclable – demonstrates new aspects in the brush technology.
Options
Extra strong wheels 250 x 80 mm for rough jobs
Water-spray system to bind the dust incl. 100 / 200 Ltr. tank and intermitting pump
Hydraulic side brush for low-wall sweeping (incl. water-spray system)
Side lamps
Comparison of Kaushik Robust Sweeper with Other Road Sweepers available in India
| Kaushik Robust Sweeper | Other Road Sweepers |
| --- | --- |
| TRUELY Hydraulic with European technology introduced first time in India. | Half Hydraulic Road Sweeper connected with Hydraulic Power Pack that mechanically moves machine. |
| 100% power being used for faster and better cleaning. | Only 50% power remaining to clean the surface due to mechanical movement of shafts. |
| Sweeper is running with hydraulic motor which achieves variable speed by vehicle (tractor) accelerator as per the need. | P.T.O. rpm are fixed so the sweeper runs at single speed. |
| We use specially designed Polypropylene brushes which puts lesser pressure on motor and vehicle's hydraulic functionality, elongates life of brushes and makes the brush stick to sweeper shaft for sturdy movement. | Regular round edge Nylon brushes puts ore pressure brushes and wears brush a lot faster. Also, these types of brushes start moving with pressure and don't clean the urface neatly. |
| Kaushik Robust Sweeper is virtually maintenance free machine as only hydraulic motor is needed to run the machine through tractor/vehicle used with solid zero maintenance tyres. | There is more downtime of machine due to mechanical coupling of sweepers' broom shaft to P.T.O. shaft which breaks often during the use. Older technology sweepers, using gear & chain drive, have brittle parts, need maintenance, servicing and the use of Pneumatic tires increases chances of puncture/maintenance. |
| Uses vehicle's hydraulic functionality and no need for additional hydraulic oil. | Hydraulic Power Pack needs separate hydraulic oil hidden cost that customers have to bear. |
| Easy & fast operation - with help of quick coupler, sweeper can be attached or detached in less than 10 minutes | It takes minimum 45 minutes to attach Sweeper to P.T.O. shaft. |