BITUMEN PRESSURE DISTRIBUTOR
| | | | | |
| --- | --- | --- | --- | --- |
| Model | KEW 3000 | KEW 4000 | KEW 6000 | KEW 10000 |
| Capacity | 3000 Ltrs | 4000 Ltrs | 6000 Ltrs | 10000 Ltrs |
* Higher capacity plants are available on specific enquiry.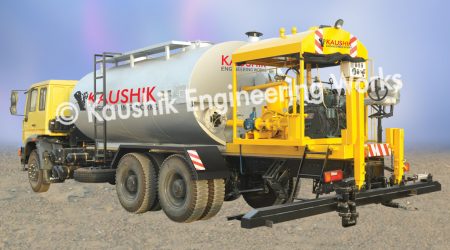 KAUSHIK Bitumen Sprayers / Bitumen Pressure Distributor is provided in the form of a truck mounted, self-propelled along with the appropriate heating system and variable spray bar. It is designed to operate on a consistent pressure system, complete with air-compressor, bitumen pump, auxiliary engine, tank mounting and other accessories. It offers constant rate applications of hot bitumen or cold tar.
Bitumen Sprayer comes equipped with a unique Pressure Cleaning System (PCS) which helps clean the system once it is used. Cleaning it after use ensures that it doesn't get clogged. You can also use it with bitumen emulsion. Trolley mounted versions are provided on demand if you need it instead of a truck mounted one.
Bitumen Sprayers, manufactured by Kaushik Engineering Works, meet the latest technology standards and site requirements. Fit for realistic work routine, our Bitumen Sprayers ensure accurate binder dosage for best quality surface treatment.
Our Bitumen Sprayer stands out due to perfect dosage which delivers consistent and accurate results. Completely equipped with measuring instruments and sophisticated control technology, our Bitumen Sprayers deliver high efficiency along with cost-effectiveness.
The technology we use to make Bitumen Sprayer ensures high efficiency and application on large areas with superior quality.
Utilizing sensor-controller dosing, the needed quantities of binding agents are fulfilled without any confinement on the total working width. With computer control, all the necessary technical data, including spray pressure and air and soil temperature, humidity, etc. can be saved using GPS coordinates for further analysis. Our creative low-pressure spraying technology which brings down the spray mist ensures environmentally conscious use of the equipment. Using our Bitumen sprayer, impregnations, pre-spray work or special construction methods can also be accomplished. Our consciously designed handling and control, makes the machine very easy to use and ensures safety at work. By selecting different equipment options, you can use the Bitumen sprayer to meet your unique requirement.
Bitumen Sprayer Standard Configuration