| | | | | |
| --- | --- | --- | --- | --- |
| Model | KEW – 45 | KEW – 50 | KEW – 60 | KEW – 65 |
| Capacity | 40 - 60 TPH | 60 - 90 TPH | 90 - 120 TPH | 120 - 150 TPH |
* Higher capacity plants are available on specific enquiry.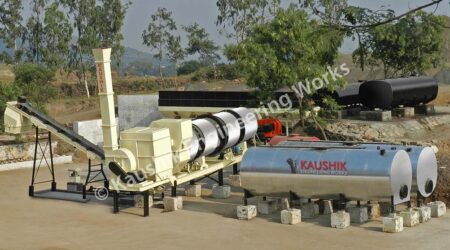 KAUSHIK automatic asphalt stationary drum mix plants, compliant with the latest M.O.R.T.H. (previously known as M.O.S.T.) specifications, are designed and engineered to give trouble-free performance with superior fuel efficiency. Our pursuance is to offer our customers the best and constant up-gradation of products; today showcase exceptional and unmatched product refinement in our asphalt mixing plants.
Asphalt- What does it refer to?
Asphalt is a mixture containing aggregates, binder, and filler. It is usually used for building and repairing different types of roads, parking lots, play areas, and sports fields. Here, aggregates can refer to crushed rock, sand, gravel, or slags.
Asphalt is utilized in building roads, railway beds, airport runways, taxiways, bicycle paths, playgrounds, running tracks, tennis courts, barn floors, greenhouse floors, ports, bridges, tunnels, landfill caps, etc.
Our KEW (Stationary) series of asphalt mixing plants offers customers the industry's finest & proven technical solution, latest generation process controls, and automation together with total installation and site support, aimed to deliver precisely mixed quality asphalt – productively and profitably. KAUSHIK design team facilitates custom-built asphalt plants to meet specific site demands and requirements. Available in capacities ranging from 35 to 150 TPH output in different models.
ASPHALT DRUM MIX PLANT STANDARD CONFIGURATION
Optional attachments of asphalt mixing plants like storage silos for mixed material, west dust collector / Bag House Filter Unit for effective pollution control, bitumen heating and storage tanks are provided to suit specific needs.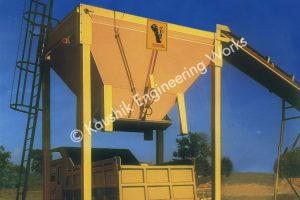 The 30-120 Tph drum mix plants are supplied with a low maintenance cradle type drum drive. The auto lubrication system ensures proper and adequate lubrication on the chain drive thereby ensuring long life of machine with trouble free service. Optionally a four wheel friction drive, which is a standard on the 120 Tph and higher models, can be supplied.
Specially treated sprockets, thrust wheels, trunion rings & trunion rollers, engineered precisely for flawless and trouble free dryer drum rotation, ensures unlimited productivity of asphalt drum mix plant.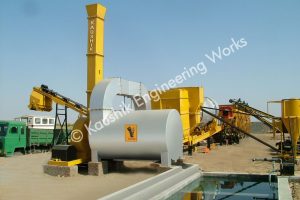 CV Series is a venturi type high efficiency wet dust collector that maintains the required environmental standards in specific areas. The extreme turbulence type venturi design ensures a very good entrapping of the dust laden exhaust gas. Large stainless steel spray nozzles provide a clog free operation and assure minimum water make up requirements. The adjustable venturi throat permits fine tuning to get optimum cleaning efficiency for the asphalt plant operating conditions.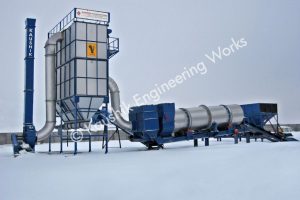 We have developed a state of the art free air flow type bag house filter unit especially for asphalt application with specially treated meta aramid filter elements. This zero maintenance design keeps emissions at less than 50 mg/Nm3, which meets international pollution control norms. This environment friendly unit has low operation cost & long life.
Frequently Asked Questions About Asphalt Drum Mix Plants
Are the Asphalt Mixing Plants Available in Various Capacities?
Yes, our asphalt drum mixing plants are available in 4 different capacities. With trouble-free performance and superior fuel efficiency, they are the best solutions for your construction project needs. You can consult with our experts so that we can understand your needs and suggest the best option that fits your business requirements.
Do You Provide After Sales Services?
We aim to maintain a long-term relationship with our customers. In case of any problem or if you have any queries regarding the product or how to use it, our team will provide you with a one-on-one consultation. We are available to help you throughout the journey and ensure a hassle-free experience.
Are Your Asphalt Drum Mix Plants Safe to Use?
Our asphalt drum mix plants come with a variety of features that make them safe to use and convenient for the user. Our machines are designed in a way to yield higher productivity, all the while keeping in mind the safety of the user.
You can also consult with our specialists to learn about the specifications of the machine and the best operating method to ensure complete safety.
Why Should I Choose Your Asphalt Drum Mix Plants?
Our asphalt drum mixing plants are created to help the successful blending of dry and warm aggregate, asphalt, and filler at the right temperature. Furthermore, they are well-equipped to be used in various construction projects for making strong surfaces for roadways, streets, and other highways. Moreover, we offer reasonable prices and customized plants as per unique specifications.