MOBILE CONCRETE BATCHING PLANT
| | | | |
| --- | --- | --- | --- |
| Model | KEW MC15 | KEW MC20 | KEW MC30 |
| Capacity | 15 Cu m3 | 20 Cu m3 | 30 Cu m3 |
* Higher capacity plants are available on specific enquiry.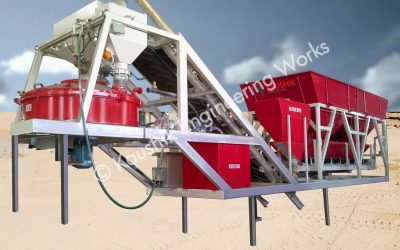 Concrete infrastructures are popular throughout the world because of their sturdiness and strength. However, producing quality concrete requires mixing different ingredients with accuracy and precision. This is the reason why the concrete batching plant has become popular. In fact, our mobile concrete batching plants are the most preferred choice in the construction industry. The experts at Kaushik Engineering Works are qualified to design portable concrete batching plants, combining excellent engineering with high-performance engines. Our ready-mix concrete batching plant is one of the most efficient and versatile options that is used globally.
Whether it is the construction of highways, bridges, canals, airports, or industrial and multi-story buildings, our ready-mix concrete batching plants provide strength and integrity to various structures. Using our plant, you can reduce the downtime for producing concrete and ensure high quality with no separation during discharge.
At Kaushik Engineering Works, mobile concrete mix plants are designed keeping compact design and cost-effectiveness in mind. We are renowned as a high-quality concrete batching plant manufacturer and exporter in India. We also offer customization opportunities to meet specific transportation norms, reduce cost, and ensure high value.
STANDARD CONFIGURATION OF OUR MOBILE CONCRETE BATCHING PLANT:
Four Bin System
Loadout Conveyors
Pan Type Mixing Unit
Discharge Conveyor
Cement Hopper with Screw Conveyor
High-Pressure Jet Cleaner system for Mixer
Microcontroller-based Electrical Control Panel
We create portable concrete batch mix plants both in wet and dry categories. We cater to the requirements of both domestic and international concrete producers and contractors. Our engineering experts provide complete support and guidance to all our clients. From the design and specification stage to the manufacturing and installation stage of the mobile concrete batch plants, we will be with you till your concrete batch mix plant is up and running.
WE OFFER THE FOLLOWING TYPES OF CONCRETE BATCH MIXING PLANTS:
Stationary Concrete Batching Plant
The role of concrete is to stand the test of time and enhance the lifespan of road infrastructures. Our stationary concrete batching plant provides bulk-quality concrete on-site using a modular design for maximum savings and productivity. Furthermore, the plant is designed to leave a smaller footprint and has a large storage capacity to suit your project needs.
Mobile Concrete Batching Plant
Kaushik Engineering Works offers a mobile concrete batching plant that can be assembled and disassembled in no time. Equipped with customizable accessories and a high-pressure jet cleaning system, producing concrete has never been easier. Whether your job site is at a remote location or you require equipment for a large-scale project, our portable plant ensures high performance and reliability.
WE HAVE THE BEST CONSTRUCTION SOLUTIONS FOR YOUR NEEDS!
Along with manufacturing the best concrete construction tools and equipment, we also offer on-time delivery and installation for the best experience. mobile concrete batching plants are designed to provide stability, security, and structure.
Want to know more? Call our expert team at +91 – 98251 64764 or shoot us an email at info@kaushikengineeringworks.com for any queries about our portable concrete batching plants.
Frequently Asked Questions About Mobile Concrete Batching Plant
What are Portable Concrete Batching Plants?
A portable or mobile concrete batch plant is typically mounted on a high-grade wheeled frame. As the name indicates, it can be easily moved from one location to another.
Should I Choose Stationary or Mobile Concrete Batching Plants?
The decision to choose between a concrete mix batching plant and a mobile batching plant depends on your requirements. For large scale projects, it is best to opt for stationary plants. For small scale projects that require frequent transitions, you may choose mobile concrete batch plants.
What are is Special About Your Concrete Batch Plants?
At Kaushik Engineering Works, we care about our clients' needs. Our concrete batch mix plants are designed to tailored specifications, cost-effective, and offer high-performance. They come with high resale value.
Do You Ship Concrete Batch Plants Anywhere in India?
In addition to shipping our stationary and mobile concrete batching plants all over India at low cost of transportation, we also export them to nearby countries.