| | | | | | |
| --- | --- | --- | --- | --- | --- |
| Model | KEW 100 | KEW 150 | KEW 200 | KEW 250 | KEW 300 |
| Capacity | 100 TPH | 150 TPH | 200 TPH | 250 TPH | 300 TPH |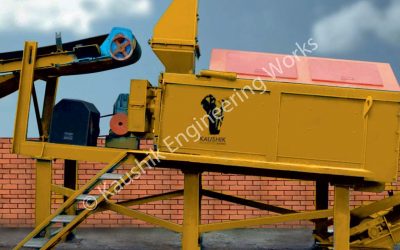 Being in line with our tradition, since our outset, we aim to provide automatic excellence in the area of road construction machinery. Experts at Kaushik have worked hard to construct Wet Mix Macadam Plant or Solid Stabilisation plant in order to help builders acquire a homogenous mix material, to make base and sub-base in the road construction projects. These plants are designed keeping in view the toughest job site requirements. They ensure high reliability and uptime. All Kaushik manufactured wet mix macadam plants possess robust structure and high quality precision.
In order to meet the varying needs of our customers, Kaushik Engineering plants can be customized from 100 TPH to 300 TPH according to the construction requirements. We also provide Cement stabilisation (CTAB) system and other accessories for wet mix macadam equipment to meet varying project and client requirements.
Our wet mix macadam plants, offered in varying capacities, ensure cost-efficiency and high performance. Made using the latest technologies, our wet mix plants are customized as per unique foundation drawing given by the seller.
WET MIX MACADAM PLANTS STANDARD CONFIGURATION
Optional attachments provided to suit specific needs
One or two water tanks of different MT. capacity are provided. They are fabricated from steel plates with manhole, flowmeter, pump etc.
Our wet mix macadam plant are manufactured using the latest technologies in order to ensure low operating costs, high efficiency and durability. Created strictly following MORTH specifications, our wet mix plants perform at the optimum rate.
While being easy to operate, the wet mix macadam plants manufactured by Kaushik Engineering Works, deliver high production rate. With a highly accurate aggregate and additives feeder, our wet mix plants produce high quality mix.
Frequently Asked Questions About Wet Mix Macadam Plants
What Are the Features of Your Wet Mix Macadam Plant?
Our wet mix macadam plant produces the highest quality mix and comes equipped with wet mix macadam technology. We have designed the machine as per the MORTH specification to ensure long-lasting durability and optimum performance. You can consult with our experts to learn more about our wet mix macadam plant.
What Are the Optional Attachments Available?
We offer storage silos and water tanks as optional attachments to suit your specific needs. You can customize our wet mix macadam plant as per your requirement with our optional accessories.
Does Your Plant Come with an Electronic Control Panel?
Yes, our wet mix macadam plant has a fully computerized control panel with an onboard electrical power console. With our plant, you can expect smooth and easy functioning. We have 4 models with varying capacities and automatic, semi-automatic, and manual operational features.
Do You Offer Upfront Pricing?
Yes, we believe in maintaining complete transparency with our clients. Whatever you need may be, we offer upfront pricing for all our solutions. You can consult with our experts about your requirements to get a quote.