Mobile concrete batch plants are the preferred equipment for most builders. The simple reason for this is the flexibility and freedom it provides. Besides being compact and portable, mobile batching plants offer flexibility in creating aggregates.
As a leading construction equipment manufacturer, Kaushik Engineering Works is well-known for its reliable and efficient concrete batching plants. Read on to learn what makes these products the most preferred among construction contractors.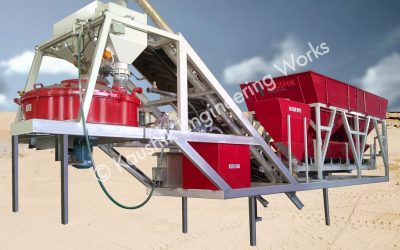 Top 5 Benefits of Kaushik Engineering's Mobile Batching Plants
Save Cement
The flying aggregate dosing and weighing system in the new age batching plants can help you save a lot of cement. The flying aggregate weighing systems in the mobile concrete batch plants allow it to dose and weigh aggregates with an accuracy close to 5 kg. With ordinary batch mix plants, for inaccurate aggregate dosing, extra cement is added to reach the recommended cement strength. With our mobile concrete batch plants, the addition of extra cement can be avoided, thus reducing the expenses on cement.
Cost-Effective & Less Space Required
Another advantage of using Kaushik Engineering's mobile concrete mixing plant is that the bins come in low heights. In an ordinary batch plant, the bin height is more which requires a higher loading ramp, which can result in higher pay-loader fuel and operational costs. In our mobile batching plants, the bin height is lower despite the bin size being the same. Furthermore, our mobile batching plants are compact and can be easily transported from one site to another.
Smaller Carbon Footprint
The cement manufacturing process is a huge contributor to CO2 emissions. However, Kaushik Engineering's mobile concrete batching plants are eco-friendly. Our batching plants allow you to save cement, which is instrumental in reducing CO2 emissions on a large scale, thus reducing your carbon footprint.
Another interesting aspect of our mobile batching plants is they use green technology and lower motor power compared to ordinary belt conveyors. The power used is as much as 2-5 times lesser than the power that other mobile batch plants use.
Easy to Install and Transport
For those who work on different construction sites and projects, our mobile concrete batch plants are a perfect choice. They are smaller in size and can be easily transported. Also, their installation is easy as they work on a plug-and-play model.
Pre-Installed Insulation
Our mobile concrete batching plants come with pre-installed insulation. This means that all additional devices, pipes and cables are factory installed and you need not disassemble them when transporting the plant from one location to another. Furthermore, our plants are equipped for production even in winters, which is why you do not have to worry about losing time for manufacturing in the cold months.
Reach Out to Us for High-Quality Road Construction Equipment
From mobile concrete batching plants to ancillary products, Kaushik Engineering Works is the leading construction equipment manufacturer in the country. We offer a wide range of products to meet varied needs. We also customize the machinery as per individual specifications.
For information on our ready mix concrete batching plants, you can reach out to us by calling +91-9825164764. We would be happy to help!