Concrete mixes are an integral part of any construction. Most construction companies concrete ready mix batching plants to make the material readily available for their workmen, and the work on their project is quicker. Concrete batching plants are of two types – mobile and stationary. Depending on a builder's requirement, either of these batching plants is deployed on a construction site.
So how are these two batching plants different from each other? And how do you decide which one caters to your requirements better? Here is some information to help you better understand each type and how to pick the right batching plant for your project.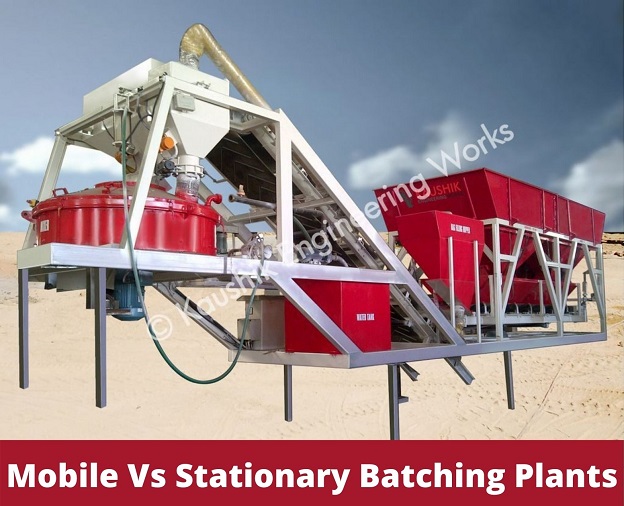 What is a Stationary Batching Plant and What are the Advantages?
Stationary concrete mixing plants are larger and are used by builders when a large amount of concrete mix is required on a construction site. These plants are permanent fixtures and cannot be moved from one site to another.
There are several advantages of using stationary concrete mixing plants. Due to their larger size, stationary batching plants can churn out larger volumes of concrete mix. These batching plants also have a smaller failure rate, so you can use them for a longer period.
Due to their efficiency and their ability to produce more material, stationary batching plants are preferred for commercial construction purposes.
What are Mobile Batching Plants and Their Advantages?
Mobile concrete batching plants are more compact when compared to their stationary counterparts. They can easily be moved from one location to another. Each bin is provided with wheels so that the plant can be towed and hauled. It has a sturdy and compact structure. However, mobile batching plants are ideal only in situations where the production volume is lower. Furthermore, it is best suited for extending works such as road tunnels and construction in remote areas.
Other advantages of mobile concrete batch plants include:
Lesser Installation Time: The installation time is 50 percent less in the case of a mobile concrete mixing plant as compared to a stationary plant. This is because of the compact size and lesser weight of the mobile batching plant. Also, mobile batching plants come pre-wired. This also significantly reduces the time needed for installation.
Lower Installation Costs: A major factor that reduces the time and money required for installation is the size and structure of the batching plant. Mobile concrete batching plants are compact hence they require less space. Also, the newer models of mobile batching plants only require a flat surface for installation. So the costs incurred towards laying down a concrete foundation are eliminated.
If you are looking for a ready mix concrete batching plant that can be transported and used across construction sites, then a mobile batching plant is the best pick for you.
For expert advice, you can reach out to Kaushik Engineering Works – the most trusted name in construction equipment manufacturing!
Reach Out for High-Quality Road Construction Material
From mobile concrete batching plants to ancillary products, Kaushik Engineering Works is the leading construction equipment manufacturer in the country. For information on hot mix plants or ready mix concrete batching plants, you can reach out to us by calling +91-9825164764. We would be happy to help!