A smooth road is the ideal everyone wishes for during a long drive or a road trip. While not everyone delves deep into construction products used for the road like a construction equipment manufacturer or a contractor would, here's everything you need to know about the difference between asphalt and bitumen roads. Especially if you are considering resurfacing an area, knowing the difference between the two and making an informed choice would help you pick the right material and save money!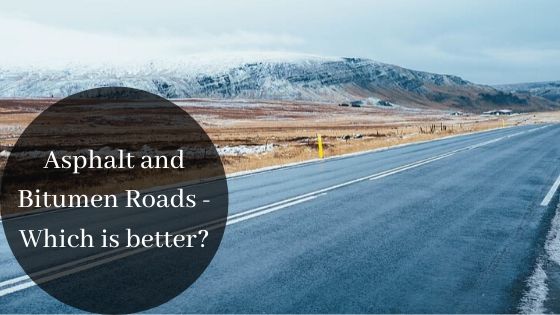 What is Bitumen?
A lot of people confuse between bitumen and asphalt. The truth is bitumen is the liquid binder that holds asphalt together. A bitumen surface will have bitumen sprayed over and then an aggregate is used to cover the surface. This surface is then provided with a two-coat seal. Asphalt on the other hand is produced in a plant where a mixture of bitumen, sand and asphalt are mixed and dried to prepare a composite.
What Are the Advantages and Disadvantages of Bitumen and Asphalt?
Asphalt is by far the most popular construction product that people use for roads and resurfacing. It is because of the several benefits it offers. Asphalt causes minimal noise because of the smooth surfacing it offers. Also, it results in lesser wear and tear in tyres; is energy efficient and reduces friction between the tyres and the car resulting in more fuel economy and lesser carbon dioxide emission. Furthermore, this construction product offers a longer lifespan of the road more than 20 years. However, its installation is more expensive as compared to a bitumen laying process. On the flip side, while using asphalt you will need a well-prepared surface for installation and extreme hot temperatures can make the asphalt go soft.
On the other hand, bitumen is a cheaper construction product when it comes to installation and can be recycled. However, the loose rocks on a bitumen paved road or pavement can cause more wear and tear in tyres. It is also not as durable as asphalt. The biggest challenge while working with bitumen is that it can cause pollution to soil and groundwater. Bitumen works best for roads where you do not expect heavy traffic.
Which One Should I Choose?
Keeping in mind the kind of traffic you are expecting, your budget and the longevity of the surface; you can choose either bitumen or asphalt as your construction product. However, asphalt is more popular among construction companies and contractors as it is most cost-efficient.
However, if you are still in doubt about the right kind of material, you can reach out to Kaushik Engineering Works for expert advice!
Let Us Help You!
Kaushik Engineering Works is a leading asphalt plant manufacturer and a leading asphalt supplier and asphalt equipment provider across the globe. You can reach out to experts at Kaushik Engineering Works by calling +91-9825164764 or emailing your queries to info@kaushikengineeringworks.com. We would be delighted to help you!
Also Read:

Know About the Working of a Concrete Batching Plant

Benefits of Mobile Concrete Batching Plant

An Overview of Bitumen Sprayers