Amplifying profitability is the main challenge in the present business condition. Innovative control technology and IT are the unequivocal factors as far as making a focused edge in the area of building materials and processing are concerned. In addition to efficiency, they have an impressive impact on the nature of materials delivered and the accessibility of plants.
Hot Mix asphalt plant comes to use for the development of roadways, airplane terminals, dams and more. The control system of Hot Mix Asphalt plant comes with an easy to understand interface, enhanced production data administration, query and different capacities. Production and fixings process with an ongoing showcase of different information and movement show equipment operation and ingredients workflow. With the qualities of simple access to the activity, straightforward and convenient, friendly man-machine interface, dependable operation, high accuracy fixings it can be very useful. There are three sections in the entire control system of hot mix asphalt plant.
The PC Control Framework
The PC is the man-machine exchange of the entire control framework, for the most part, understand the start and stop control of the gear, ongoing monitoring of hardware running status, data management, formula management, production administration, production records administration, storage generation information and more. The Computer control framework incorporates PC, display, UPS, printer, serial card, et cetera.
The Solid Power Cabinet
The solid cabinet embraces standard cabinet model with a strong anti-interference capacity. Conveyance cabinet, for the most part, introduces air circuit breakers, contactors, thermal relays, frequency converters, transformer trough terminals, and different segments. The door board is furnished with a temperature controller, commutation switch, etc. Solid electrical apparatuses as indicated by client needs to configure the import, joint venture or domestic brand items. Circuit plan and determination meet the electrical principles, device establishment and design are reasonable. The arrangement is slick and simple to maintain.
Operator Station
PC, screen, control board, printer and different segments on the host part of the board, the button is introduced in the control board of the protruding part of the table, the surface etching the board logo which is natural and sturdy.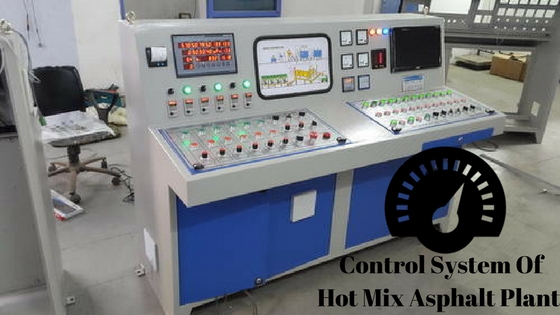 Key highlights of the control arrangement of a hot mix asphalt plant are:
Solid state innovation all throughout.
Super-splendid touchscreen display guaranteeing readability in daylight.
Clear console outline with eight multi-function soft keys, with advanced load cell enhancers for each measure scale.
Choice of operational display dialect.
Unlimited number of blend formulas.
Automatic blend control.
Password ensured for secure access control.
Animated plant emulate for live data status.
End of day aggregates reporting for production and recipe ingredients.
Recipe/Job planning.
Automatic material in-flight remedy for mix accuracy.
Two phase bitumen weighing guarantees exact bitumen control.
Network port for remote survey and operation with download port for USB association.
Optimize Your Hot Mix Asphalt Plant with Our Control System
Looking for a reliable road construction equipment manufacturer? Contact Kaushik Engineering Works for high-quality hot mix asphalt plants and efficient control systems. Call us at +91-9825164764 or email us at info@kaushikengineeringworks.com to learn more about our products and services.