Concrete batching plants are mostly utilized for the production of concrete. Today, the technology used in these plants has improved with high efficiency, low energy consumption, and efficient development of low-power. Moreover, the raw material cost depends on the methods of production process. For example, manual or semi-manual method process cost less in terms of raw materials.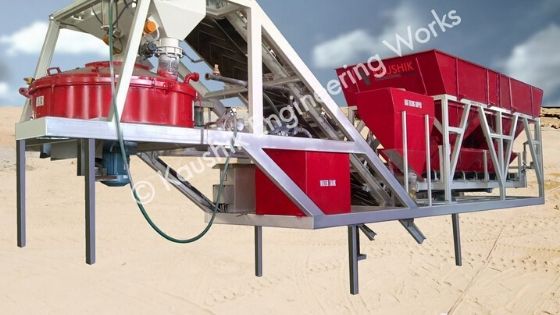 Factors Affecting the Productivity of Concrete Batching Plant!
There are many factors that influence the production capacity of concrete batching plants.
Composition of Materials

Besides the quality, the quantity of the raw materials also matter. When the raw material is entered in the concrete batching plant, if the quantity is more, the mixing will get affected. The material gets stuck to the inner lining of the concrete mixer that can create problem in the process and normal operation of the batching plant. Therefore, it is recommended to use the required quantity of the material and avoid extra addition.

Hardness of the Material

It is difficult to stir materials that are hard in nature. They can also cause early wear and tear to the concrete mixing machine blade. Ultimately, this reduces the productivity as the mixing speed is reduced which in turn reduces the output.

The Motor Power

The motor power is considered to be the determining factor of the outlet pressure and the delivery volume. Usually, it is preconditioned. When the motor power remains constant, with the increase in the outlet pressure, the delivery volume drops. On the other hand, when the pressure is decreased, the delivery volume increases.

For the concrete batching plant to increase the output, it is essential to use the power piston pump that usually remains constant. However, with the increase in the outlet pressure, the productivity of the plant decreases.

Climate

Climate around the concrete plant has a major impact on the production. The air temperatures, water vapor pressure, photosynthetic rate, the wind speed, transpiration rate, humidity of the air, etc, affect the productivity of the plant.

Other Factors Related to Environment

Besides the climatic conditions and temperature, other environmental factors also play a crucial role and can affect the productivity of concrete batching plants. These are, composition of the atmosphere, radiant energy, moisture supply, soil structure, composition of the soil air, biotic factors, soil reaction, supply of nutrients to the soil, or no growth inhibiting substances.

Technical Factors

Technology used by any concrete batching plant plays a crucial role in the productivity process. Other factors include the right layout, ideal location, size of the plant, required machineries & equipment, experts, etc. It is essential to utilize new production technologies and effective machines as these can greatly impact in the output capacity.

Other Factors

The use of concrete pumps, mixer trucks, crushers, cement silos, and the type of concrete batching plants also affect the productivity. For example, if you want faster mobility, installation, frequent relocation, and build temporary construction sites, mobile concrete batching plants are considered to be the best option. Compact concrete batching plants have pre-wired units provide easy transportation. Then, there are stationary concrete batching plants. These units are mostly considered when maximum capacity, efficiency, and reliability for high-quality concretes in mass production are the specifications.

If you are looking to purchase a concrete batching plant that meets your requirements, we can help. Kaushik Engineering Works is a leading asphalt plant manufacturer having the resources to cater to varied needs. We will understand your specifications and ensure that you get a concrete batching plant accordingly, on time and budget.

For more information about our products and services, please call us at +91-9825164764. We'll be glad to assist you!

Also Read:

Pick best Concrete Batching Plant

Benefits of Mobile Concrete Batching Plant

Know About the Working of a Concrete Batching Plant